We are pleased to announce that we have now moved to prestigious premises at 150 Upper New Walk. The full address is –
150 Upper New Walk, Leicester, LE1 7QA.
Please send any post to our new P.O. Box address -
New Walk Chambers
P.O. Box 11024
Leicester
LE1 8FH
We are no longer receiving mail through DX.
Our telephone number remains the same.
PLEASE NOTE:
Given the current National Crisis and whilst endeavouring to follow current government advice – please note the following:
Counsel are available as usual for advice work and hearings whether they be by telephone, video link or by attendance at the direction of the Court. Please confirm with the court if the hearings can be done remotely as it increasingly seems to be the preferred method.
Chambers now accepts payment of Counsels fees only by BACS. Exceptionally - if this is not possible then we require payment by cheque in advance of any work being done by Counsel.
Clerks are working remotely. Therefore we require all correspondence/Counsels briefs to come by email. If difficulties arise because papers have been sent in the post or by DX then we cannot accept any responsibility for that.
We hope you appreciate that these measures are a necessary response to this crisis and are taken in an effort, by Chambers, to follow best practice.
Chambers is open as normal, albeit remotely, and if you require assistance then please do not hesitate to contact us. Our preference is by email, though we are also taking calls as normal.
We would like to take this opportunity to thank you for your past and ongoing support for Chambers. Counsel and Clerks would also like to wish you and your families all the best during this difficult time for our Nation.
Mike Ryan
Clerk to Chambers
-----------------------------
Our barristers chambers in Leicester's New Walk, just off King Street, offer conferencing facilities, a first class library, full computerisation, thirty-three barristers and a dedicated clerking team headed by our Practice Manager.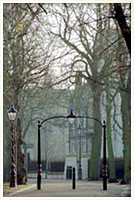 The client's professional requirements are catered for by an individual service, based in the traditional barrister practices, but allied to a modern approach. Our barristers can work as an individual lawyer through the Public Access / Direct Access scheme or they can work in conjunction with a solicitor. If you wish to find a barrister who can deal with your case then please search under our areas of work. The Public Access / Direct Access scheme can work for many people who feel that they can do some of the background administrative work while leaving the barrister to do the legal work. This can prove to be a cheaper option for many private clients. Chambers is a successful set of lawyers with individual Barristers specialising in the following areas among others:
Transparency
New Walk Chambers takes instructions from professional, licensed access and/or lay clients. Chambers can be contacted by phone on 0116 255 9144 or by email to clerks@newwalkchambers.co.uk to provide quotation.
Our main areas of practice are general civil, commercial, tax (at Queen's Counsel level), family and care, immigration, employment and some crime.

Please be aware that we will try to ensure that paperwork is done within reasonable timescales. However, it is possible that there may be delays due to sickness/bereavement etc., other professional commitments which for whatever reason may have to take priority, such as a part heard case, and factors which aren't necessarily within our control such as computer breakdown etc.
For New Walk Chambers' commonly used pricing models, for Direct Access and other work, please see the contact page.
Please also see our contact page for our complaints procedure and a link through to the Legal Ombudsman Decision Data. If you require information on Barristers then please go through to the Barristers Register Page. Chambers is registerd with the Information Commissioner's Office (ICO).
Judicial appointments et al
Several Barristers and former members of Chambers hold judicial, or quasi-judicial, appointments such as Recorder, District Judge (Crime and Civil), Immigration adjudicators and Deputy and Assistant Coroner both in the UK and in the Caribbean.
Languages
Chambers enjoys the advantage of having a number of Barristers who speak foreign languages, including French, Gujarati, Urdu and Tamil.
Court Coverage
Our Barristers regularly cover work for solicitors or under direct access at the following centres:
County Court
High Court
Court of Appeal
Supreme Court
Coroner's Court
Immigration Court
Crown Court
Magistrates Court
Employment Tribunal
covering Courts in:

Leicester, Nottingham, Coventry, Northampton, Peterborough, Birmingham, Derby, Warwick, Oxford, Nuneaton, Wolverhampton, Bedford, Milton Keynes, Sheffield, Leeds, Manchester, Stafford, Grimsby, Hull, Lincoln, Cambridge, Bourne, Solihull, Boston, Skegness, Bradford, Banbury, Wrexham, Oswestry, Oakham, Luton, Kidderminster, Grantham, Kettering, Burton-Upon-Trent, Redditch, Mansfield, Chesterfield, Chester, Stoke-on-Trent, Rugby, Walsall, Mold, Telford, Leamington Spa, Dudley, Doncaster, Stamford, London, Wellingborough, Corby, Scunthorpe and Stratford-upon-Avon.
Taking effect from 31st January 2013, members of New Walk Chambers will offer their services and will accept instructions on the new Standard Conditions of Contract for the Supply of Legal Services by Barristers to Authorised Persons 2012, unless otherwise agreed in writing.
Original documents
Please do not send original documents to Chambers. If originals are required at Court or for some other meeting then please either ask your firm's representative or the client to bring them when they attend.
Chambers cannot accept responsibility for any originals that are lost whilst being conveyed to, or by, Chambers or whilst in our care.
Equality & Diversity
New Walk Chambers is fully committed to equality of opportunity and values the diversity of it barristers, staff and clients. It has always been our policy to ensure fair and equal treatment and not to discriminate on the grounds of social background, gender, age, ethnicity, nationality, disability, religion or belief, and sexual orientation.

Bar Standards Board Equality & Diversity Data
New Walk Chambers has surveyed its barristers and staff in accordance with the Bar Standards Board (BSB) Code of Conduct, in order to collect and publish equality and diversity data.
The survey was conducted voluntarily and anonymously, in accordance with BSB rules. Fourteen of the workforce responded to the survey. The total numbers may differ between categories as the response to each question was voluntary. Data is not published where its publication might reasonably lead to the identification of individuals; where figures in any category are below 10 they are only reported where consent was given by all individuals in the category. Where percentages are given, they are of those who responded, rather than of Chambers as a whole.

Gender
Barristers Male 5 (36%) Female 9 (64%)

Ethnicity
Barristers (White British/English/Welsh/Northern Irish/Scottish)
Number 12 (86%)

Did you mainly attend a state or fee paying school between the ages 11 – 18?
Number:
UK State School
Number 10 (71%)

Are you a primary carer for a child or children under 18?
Number
Yes 10 (71%)

Do you look after, or give any help or support to family members, friends, neighbours or others because of either: – Long-term physical or mental health issues?
Number
Yes 11 (78%)
New Walk Barristers Chambers is committed to continued expansion using advanced technology to provide a better service to all of our clients both in Leicester and the other Court centres that we cover. Several of the Barristers are now capable of dealing with work through Public Access / Direct Access. There has been a very large growth in Public Access which is also known as Direct Access work for Barristers as many clients find that instructing a Barrister direct can be a faster and much cheaper route for members of the public.